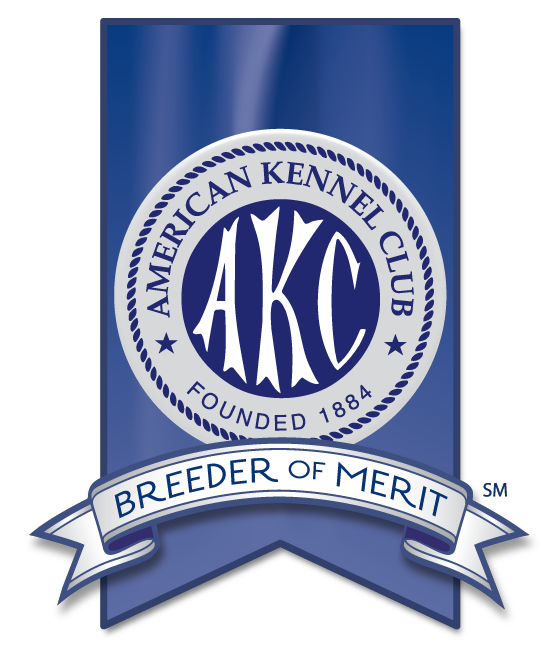 Recognized by the AKC as a
PLATINUM LEVEL BREEDERS OF MERIT
The ONLY Greyhound breeders so recognized by the AKC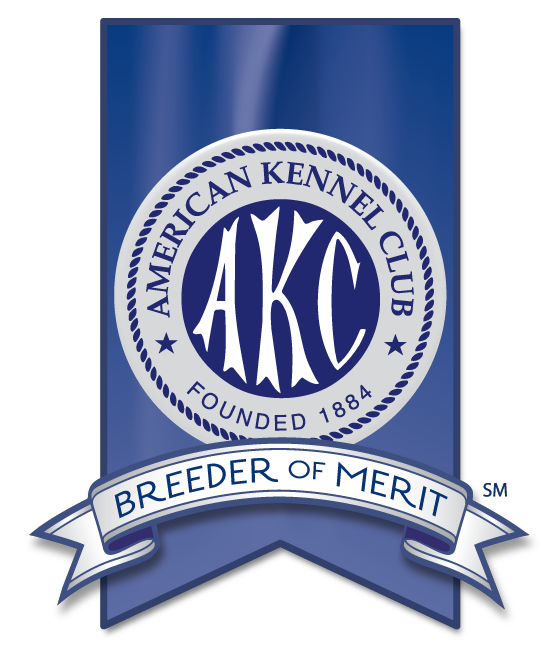 WINDROCK LLC
Our Stud Dogs
If the success of a breeding program can be measured by the success of its sires and the offspring of those sires, WINDROCK LLC surely have attained the lofty heights of the pinnacle of success as few other breeders have!
However, one must realize that a sire is only half of the equation and most of the credit is due to the individuals who brought their exceptional lady greyhounds to our studs. That said, please allow us the privilege to introduce the male Greyhounds who through their collective contributions and those of their descendents, helped to firmly establish the WINDROCK name in Greyhound history.
As Colin and I had the foresight to collect and freeze semen from these exceptional sires, we can now offer to breeders the rare opportunity to breed to the Greyhounds listed below and therefore acquire bloodlines that otherwise would not be available. Many of the sires we have frozen semen on lived years ago and now are deceased.
All of the Greyhounds listed here have had health testing performed. Not all the results are available on line, but copies will be provided to interested parties upon request. We encourage breeders to perform health testing on females before mating them. We recommend at the minimum, testing for cardiac, neuropathy and CERF.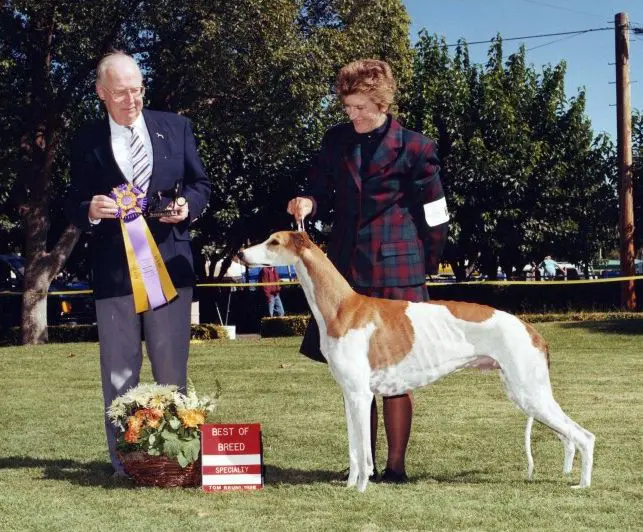 The All Time Top Champion Greyhound Sire In History~
MBIS/SBIS Ch Shazam's The Journey Begins JC CGC
Ch Jet's The Voyage Out x BIS Ch Gallant Somnombula
OFA Hips/Elbows/ CERF/Neuropathy Free
Click this link to pedigree: Bubba's Pedigree Click this link for OFA: Bubba results
Bubba was bred by Jack and Maggie Mitchell under the guidance of Joan Dalebout and acquired at four months of age by Kim and Colin Fritzler of WINDROCK LLC.
Kim remembers that even as a puppy, Bubba was fiercely independent, headstrong, and very stubborn. He was anything but easy to work with. The Mitchels admitted to spoiling and coddling their favorite pup.
The Fritzlers recognized this and quickly realized they had a beautiful but rebellious young dog that would require special handling. With the wisdom born of years of experience, they slowly and carefully set about the task of revealing the diamond in the rough.
This would take an inordinate amount of time, training, and patience. Kim and Colin were not deterred, they saw in Bubba the promise of future greatness, and they believed in him – and in each other.
When the time came, Bubba, expertly conditioned, trained, and shown by Kim Fritzler, was presented to the dog show fancy, and the rest is Greyhound history!
Possessing an indescribable charisma and electrifying presence all wrapped up in a male Greyhound's sinewy grace, Bubba was quickly recognized and awarded by the top dog show judges of the day!
The incomparable First Lady Of Dogs, Mrs. Anne Rogers Clark, gave the white and red rising star his first Best In Show! In an amazing two years, totally owner-handled by Kim Fritzler and restrictively shown, highlights of Bubba's phenomenal accomplishments include:
He has sired more BIS and SBIS winners than any other Greyhound, and his get includes many top-ranked winners. He has sired 53 AKC Champions to date, not including Canadian or Fch titlists.
His lovely daughter, BIS/SBIS Ch Huzzah Molly Malone, is one of the top-winning Greyhounds ever, with 13 BIS wins. Our own BIS/SBIS Ch Greystone's Barcelona was the #1 Greyhound Dog in 2001 and 2002.
From a breed health standpoint, Bubba's star as a significant sire really shines! Bubba himself was health screened thoroughly for OFA/CERF, thyroid, and heart functions, and we required that females mated to him have OFA/CERF clearances.
To the best of our knowledge, out of his 113 children, there have been no reported cases of any eye problems, no hip or elbow dysplasia, and the incidence of GDV (bloat/torsion) affecting his get is astounding low--less than 7%.
The breed average is 19%. As a whole, Bubba's offspring have had very few health ailments.
We have one vial of semen from this exceptional sire available for sale. Interested parties, please email us at [email protected]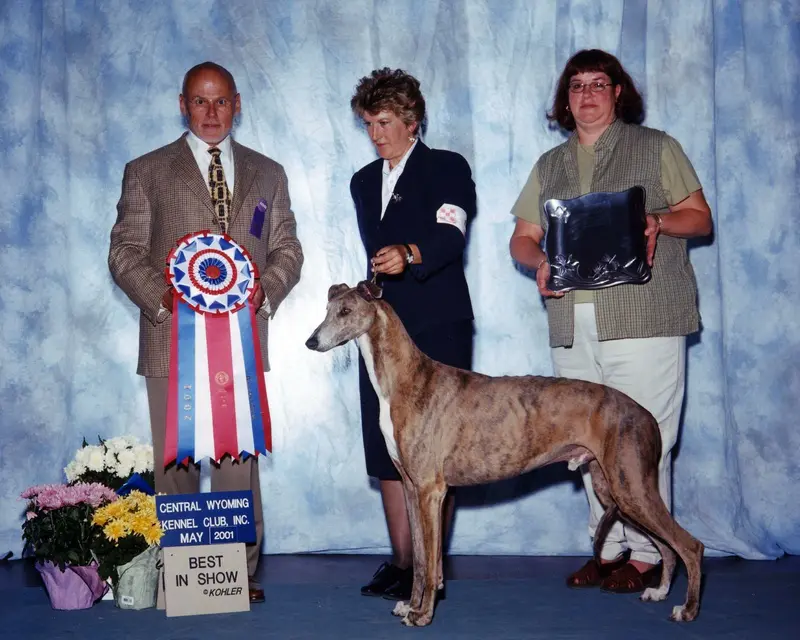 MBIS/SBIS/HIT Ch Greystone's Barcelona CGC
(BIS/SBIS Ch Shazam's The Journey Begins JC x Ch Arborcrest Europa JC) DOB 11/08/1996
CERF/Thyroid Normal/Hips Good
Click this link for Pedigree: Barc's Pedigree
Barc was acquired by WINDROCK LLC as a stud fee puppy from his breeders, Steve and Sharon Heward. He is a son of the flashy-top winning Ch Shazam's The Journey Begins JC.
Unlike his father, he was a compactly built, smaller male of blue fawn brindle coloring. He had well-muscled quarters and excellent rib spring and was very sound. Barc was easily overlooked until he moved. Then you couldn't take your eyes off of him. He was a very clean, balanced mover with a wonderful flowing gait.
Handled by Kim, Barc finished his AKC championship very quickly with multiple BOB wins and group placements from the classes. Always owner-handled and with very limited showing, he won multiple BIS and SBIS and was even High In Trial at the 2004 GCA Eastern Specialty, where his children won SBIS, WB, RWB, and another won the major in lure coursing.
Some of the high points from his brief career:
Sire of the WINDROCK bred, "ABBA" litter, Barc and Ch Sobers Aquatica SC gave us multiple BIS/SBIS winners, Breed Champions, Field Champions, and Dual Champions, along with multiple #1 winners in both the ring and on the field.
We have a good supply of frozen semen to sell to interested parties. Please email us at [email protected]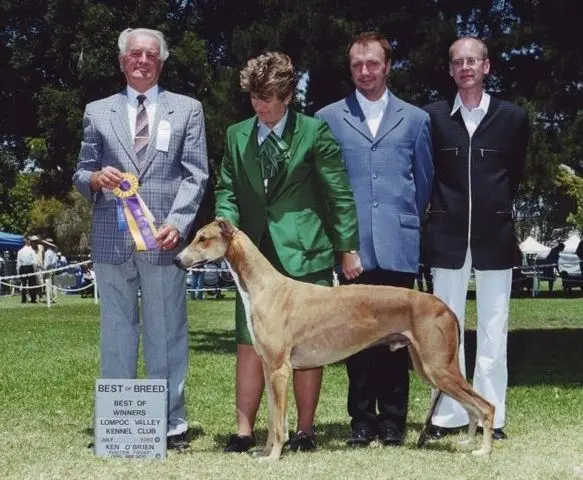 BIS Int Am Fin Est S CH FinW-02-04 NordW-03 BaltW-06 WINDROCK Fernando
MBIS/SBIS/HIT Ch Greystone's Barcelona CGC x Ch Sobers Aquatica
CERF/Hips "A" rated in Finland, Neuropathy Free
Click this link for Pedigree: Fernando's Pedigree
Fernando is one of the pups from the sensational "ABBA" litter bred by WINDROCK LLC. He is a littermate to:
Fernando is a son of our #1 ranked Ch Greystone's Barcelona and out of the lovely Ch Sobers Storia daughter-Ch Sober Aquatica SC. He was exported to Finland soon after finishing his AKC Championship and has enjoyed a successful show and stud career in Scandinavia. Some of his accomplishments include:
We still have some frozen semen of this sire in stock. If you are interested, please contact us at [email protected]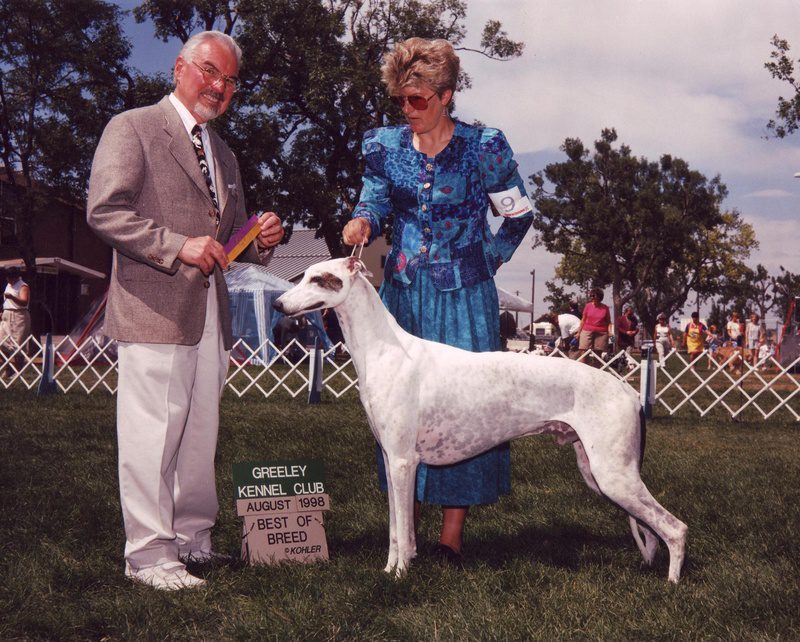 Group-Winning Ch Martigra's Cupid's Beau
SBIS Ch Crestfield Sky's Salute O'Gerico x Paula Of Quest
OFA hips/CERF/Neuropathy Free
Click this link for Pedigree: Beau's Pedigree
Click this link for OFA: Beau Results
Beau was bred by our good friend Marti Bradford. She raised him and showed him to his championship, and shown as a special by her, this handsome showman racked up numerous BOB wins and group placements.
He was the sire of 25 Champion get, including SBIS and Group winners. Most of his offspring were owner-handled to their wins. He also sired some excellent coursing and versatile Greyhounds.
His conformation and elegant lines made him a magnificent sight. Beau had well-defined muscles and a proper Greyhound shape with an especially strong underline.
All dogs have their faults, and Beau was a bit wide in the rear. Bred to bitches that were clean in their movements, he did not often pass this shortcoming on.
We thought enough of him to have semen collected, and we intend to use him in the near future. Feel free to email us at [email protected] if you are interested in purchasing a vial.