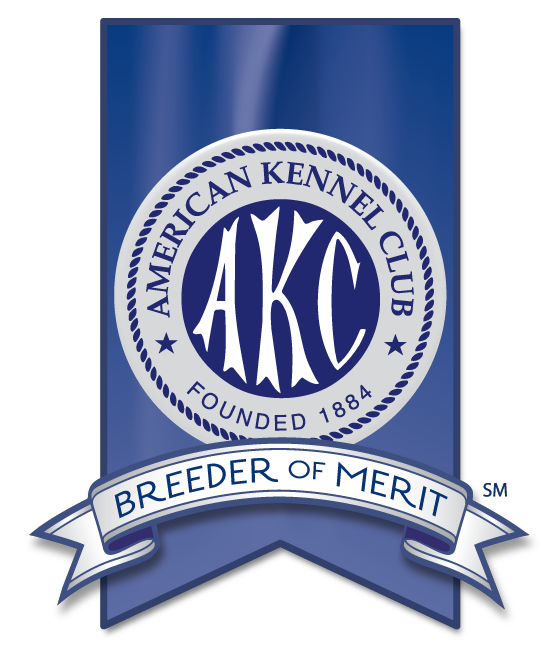 Recognized by the AKC as a
PLATINUM LEVEL BREEDERS OF MERIT
The ONLY Greyhound breeders so recognized by the AKC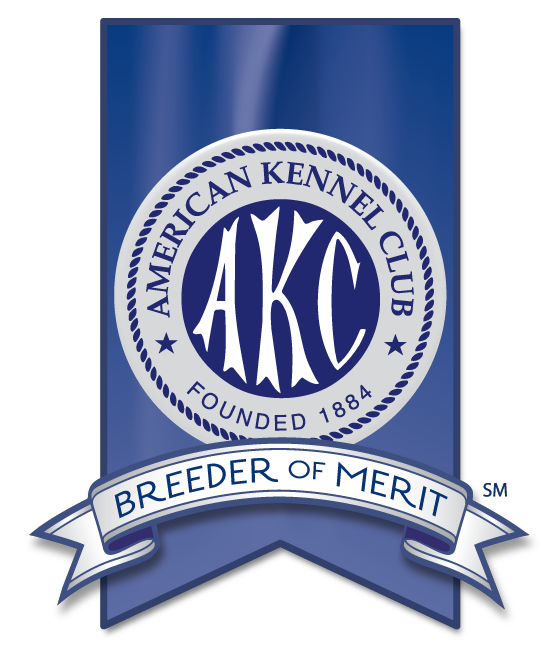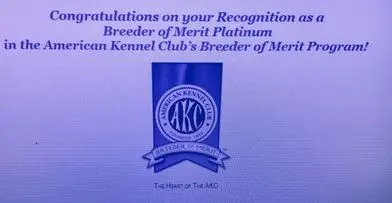 Wins and News
Be prepared for some shameless bragging!
WINDROCK LLC is proud to announce that we have been bestowed the distinction of Platinum Level Breeders Of Merit. We are the ONLY Greyhound breeders that can lay claim to this prestigious  recognition.
 Our dedication and passion for the Greyhound breed has been further recognized  by the AKC! We have been recently featured in a candid article that was published by the AKC and may be viewed by clicking this link.  AKC ARTICLE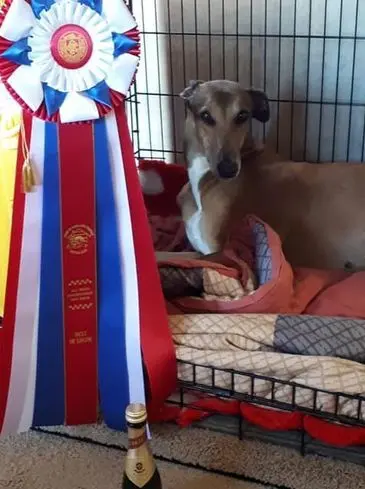 Firefly Wins Best in Show
Celebration time at WINDROCK LLC!  Our lovely Firefly has just won a BEST IN SHOW and she did it on her birthday! (May 19, 2019)  We are grateful to Heather Elrick who handled our beautiful red head to this marvelous accomplishment.
Firefly is officially known as BIS Can Ch/SBIS GCH/Int. Ch Windrock She's Tough Enough and she is owned by us her breeders and Rachel Martin of France.  She is currently the #1 Greyhound in Canada, but two other fine WINDROCK LLC bred Greyhounds are pressing hard for that honor and are currently in the Top 5 rankings.  Who will emerge top greyhound for 2019?  This is going to be exciting for us on the sidelines, but nerve-racking for the contenders.
We are planning a litter for Firefly early in 2020.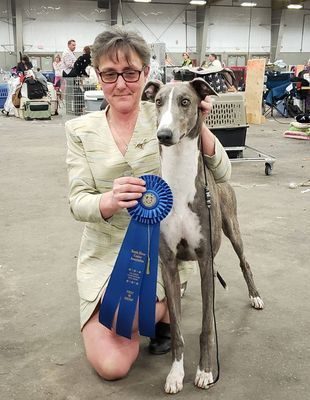 Group First Win for Levi and Claudine!
Huge Congratulations to Claudine Paton Hamilton and "Levi" who is Can GCH Windrock Roadhouse Blues Fch on winning Group One! Levi is currently
#2 Greyhound
in Canada! We are so proud of Levi and grateful to Claudine for making it happen!  Levi was also top 10 ranked in both conformation and lure coursing in 2018.
Quoting Claudine~
"Fun fact!!! Levi - MSBIS BPIS Can GCh Windrock Roadhouse Blues FCh is the ONLY Greyhound in Canada to be consistently in the top 10 standings in both conformation AND lure coursing since he started his coursing career in 2016! He is also the only Field Champion in the top 5 conformation standings!!! Form and function baby!! Form and function!!!!"
Levi is proof positive that a winning show dog and also be functional and durable. Levi is hot on the heels of the current #1 Greyhound who also just happens to be a WINDROCK LLC greyhound!  SBIS GCH/Can Ch/Int Ch Windrock She's Tough Enough known as "Firefly" is with Heather Elrick and this duo currently is on top of the rankings. The year is just starting and it will be exciting to see how things pan out. One thing is for certain, we are very proud of these ladies and hounds and wish only the best in the shows  to both!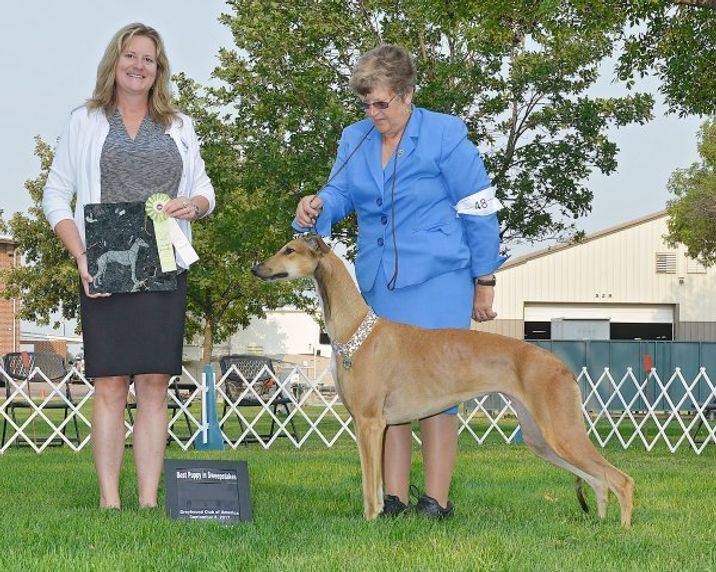 SBIS GCh Windrock She's Tough Enough
Int Ch Windrock Fernando x Windrock Miss Lathna Fey SC
"Firefly" at the tender age of 16 months not only won Best In Sweeps under judge Tracy Hite at the Greyhound Club of America Central Specialty (pictured) but, as a new special, went on to win Specialty Best In Show under judge Wm Shelton.
She was handled to these wins by WINDROCK's breeder, owner, handler, and pro trainer, Kimberly Fritzler.
Professional handlers "Beep" and Shari Lee-Rhodes, took Firefly to some shows, and in a whirlwind start to what promises to be an illustrious show career, Firefly dominated breed competition and attained Grand Champion status with all major wins over specials, and has 9 group placements, including two Group Firsts.
Shown only in a few shows at the tail-end of the year, amazingly, Firefly is top 5 ranked in Breed competition and top 10 ranked in All Breed (Group and BIS wins). We are thrilled with our brilliant youngster's early success and can only wonder what she will be capable of with maturity. She is very much a puppy and will only improve with time.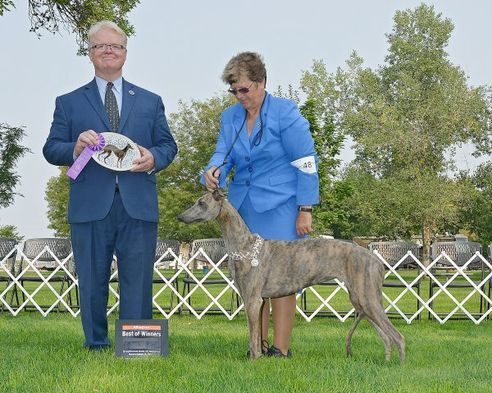 Windrock Drive Me Wild
DC Windrock Ultra Sonicus Ad Infinitum SC Fch x Ch Windrock American Victory SC
Baby Piper went to the GCA Central Specialty and behaved remarkably well for a baby puppy had never been to a dog show!  This was her first time in the ring. She has never been to a handling class or a match. But she handled all the excitement like a pro.  Not only did our budding blue brindle rose win Best Puppy,  but she was Winner's Bitch and Best of Winners over much more mature competition for a 5 pt major under judge Wm Shelton. (pictured)
Even as a tiny puppy, Piper hinted so much early promise that I picked her early on to be my own. Her pedigree boast the elusive combination of two of WINDROCK's  best female lines and I can only imagine what kind of beauty she will blossom into.  
The Greyhound Club of America National Specialty
July 2016
The 2016 Greyhound Club of America National Specialty held in Lompoc, California was a resounding success for WINDROCK-bred Greyhounds. We are so proud of the many exhibitors who represented our breeding at the National.
BOB was a beautiful class bitch. We had recently sold co-ownership to Riley Dwyer, and she was handled into WB, BOW, and BOB by the talented Charlotte Fielder. WINDROCK-bred dogs were also awarded Select Bitch, 3 of the 5 AOMs, RWD, Best In Sweeps, and Best Puppy.
We are grateful to the judges who found our Greyhounds worthy of these accolades and to the owners who proudly presented them.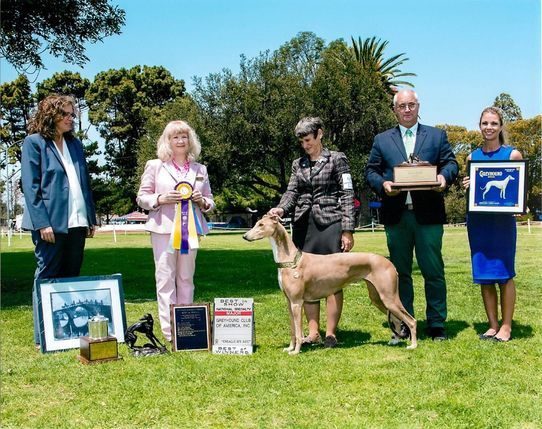 SBIS Windrock Long May You Run
Ch Martigra's Cupid's Beau x MBIF GCH DC Windrock Calamity Jane SC Fch
"Glitter" was WB, BOW, and BOB from the classes. She was expertly handled by Charlotte Fielder to this win. This is an incredibly prestigious win for young Glitter and new owner Riley Dwyer.
At the supporting Lompoc KC show, Glitter proved that her win was no fluke by going WB, BOW, and BOS for another 5-point major win to finish her AKC Championship title in style!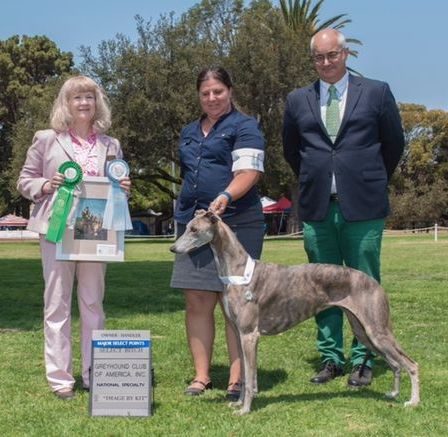 GCH Windrock Let Them Talk SC
Ch Martigra's Cupid's Beau x MBIF GCH DC Windrock Wild Wood Weed SC Fch
"Willow" was Select Bitch at the National and also placed in Rally Obedience. Willow is owned by Scott and Annmarie Pack.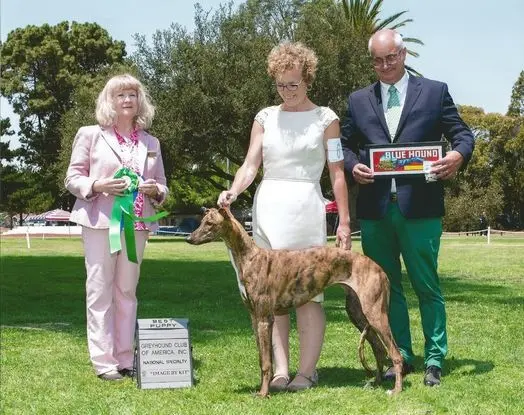 Windrock's Something Wicked This Way Comes
MSBIS GCH DC Windrock Easy Money SC x BIF DC Windrock Misty
Baby "Phoenix" was Best In Sweeps at the National and Best Puppy.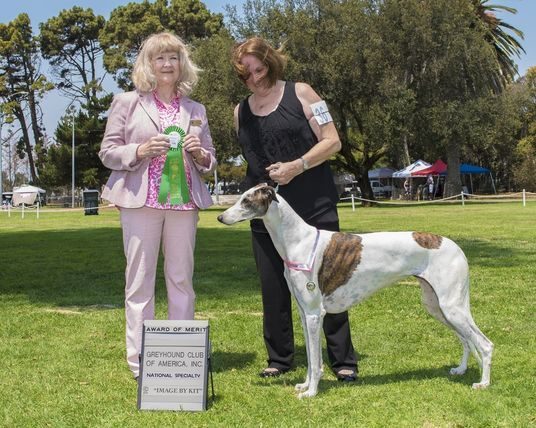 GCH Windrock Talking Heart To Heart JC
Ch Martigra's Cupid's Beau x MBIF GCH DC Windrock Wild Wood Weed SC Fch
"Faith" has been entirely owned and handled by Patricia Paterson her entire career. She won one of only 5 Awards of Merit at the National.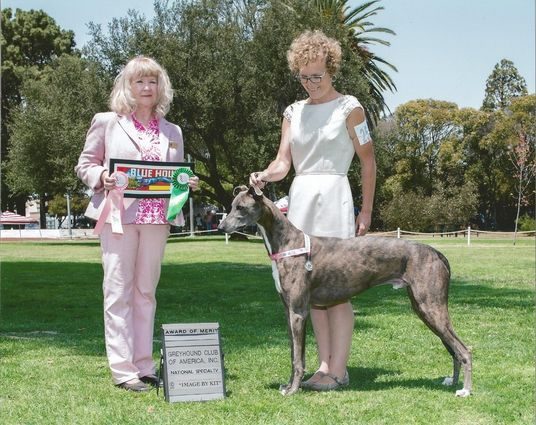 DC Windrock Batottahellious SC
DK's Prime Time x MBIF NFC FC Windrock Candle In The Wind MC LCX LCM
"Sonic" won the Coursing Dog class and an Award of Merit at the GCA National. He also won the Fch Stake at the GCA National lure course.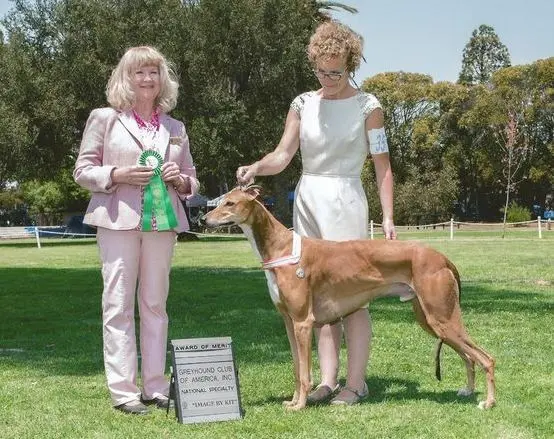 SBIS GCH DC Windrock Easy Money SC
MBIF DC Sobers Ippolito SC Fch x Windrock Miss Lathna Fey SC
"Rowan" came off of winning SBIS at the GCA Central Specialty to gather an Award Of Merit at the National. The icing on the cake was his daughter winning Best In Sweeps and Best Puppy! Rowan also won Select Dog at the supporting Lompoc KC show.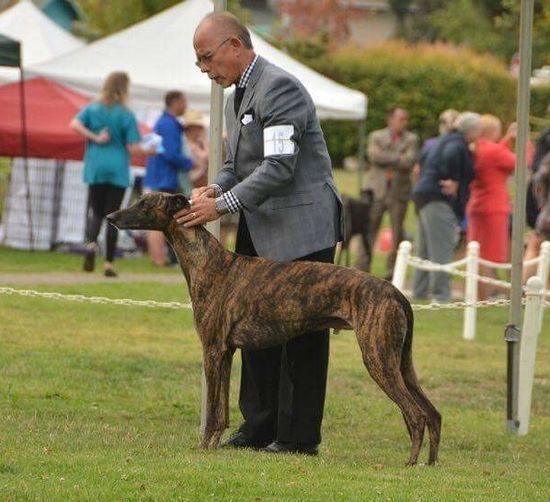 MBIF Windrock Ultra-Sonicus Ad Infinitum SC
DK's Prime Time x MBIF NFC FC Windrock Candle In The Wind MC LCX LCM
"Wile" is just starting out, and he had a good time at the National. He was awarded Reserve Winners Dog to a 5 pt. major. He also won a placement at the GCA National Lure Course. These nice wins bring him very close to his Dual Championship.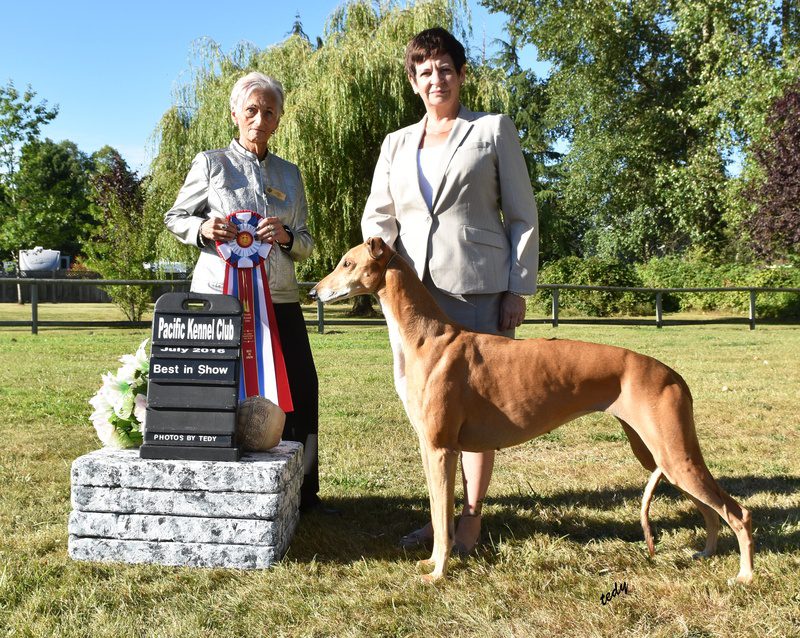 Another Best in Show for Team Heather and Bekka!
August 2016
MBIS/BISS GCH Madajors Highly Explosive At Windrock
Int Ch Denetorn Des Legendes Du Moyen Age x Int Ch Windrock Red Hot Mamma
Under Heather's guidance, Bekka is currently the #1 Greyhound in all of Canada, and all believe the best is yet to come!
"A very sincere thank you goes out to Judge Maida Puterman for this prestigious win...
This is Bekka's second BIS acknowledgment, and on paper, she's now known as MBIS BISS GCH Mandajors Highly Explosive at Windrock!!
Our appreciation goes out to Kim and Colin Fritzler, Windrock Kennels for entrusting us with this fabulous red girl – stay tuned because we're not done yet!" - Heather
I can tell you from personal experience that BIS wins don't come easy. To end the day as an owner-handler with the top dog in the show is an achievement that is nothing short of miraculous.
Wins like these demand hours of conditioning and training and teamwork, and to even FIND a breeder willing to part with an exceptional specimen worthy of such consideration, well, good luck! Plus, the owner-handler is pitted against all the professional handlers and their well-heeled clientele.
The odds are astronomical. We are grateful that breeder Rachel Martin of France sent Bekka back to Windrock and that we had the wisdom to place Bekka with Heather, who also saw the tremendous potential that young Bekka possessed.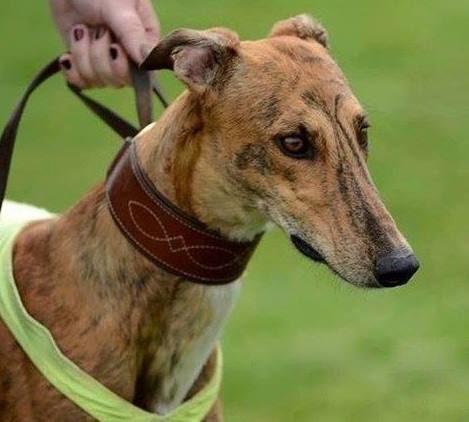 Danica Did It!! She's Now a Dual Champion!
Introducing our newest Dual Champion~~MBIF DC Windrock Born To Run SC Fch
We are so proud of our little Danica! She has achieved the goal of AKC Dual Champion by winning Winner's Bitch for a 5 pt. major at the recent RFKC show. There are rare few Greyhounds who can lay claim to that distinction, and most of them nowadays carry WINDROCK bloodlines.
An AKC Dual Champion is a dog that has achieved Championship status in both the show ring and on the field. Few Greyhounds achieve such status, and we are proud that Danica attained this lofty goal.
She is now one of two Dual Champions produced by her top producing dam "Fey" (Windrock Miss Lathna Fey SC) and one of three produced by her sire, MBIF DC Sobers Ippolito SC Fch.
With the beauty pageant over, Danica is more than happy to resume coursing. Dog shows are fun, but not "FAST" enough for her!
What is next for Danica? Right now, she is flat out on the bed, feet twitching and moaning. I think she is dreaming about chasing plastic bunnies!
Rowan Wins Another Specialty Best in Show
MSBIS GCH CH/MBIS UKC Ch Windrock Easy Money SC
MBIF DC Sobers Ippolito SC Fch x Windrock Miss Lathna Fey SC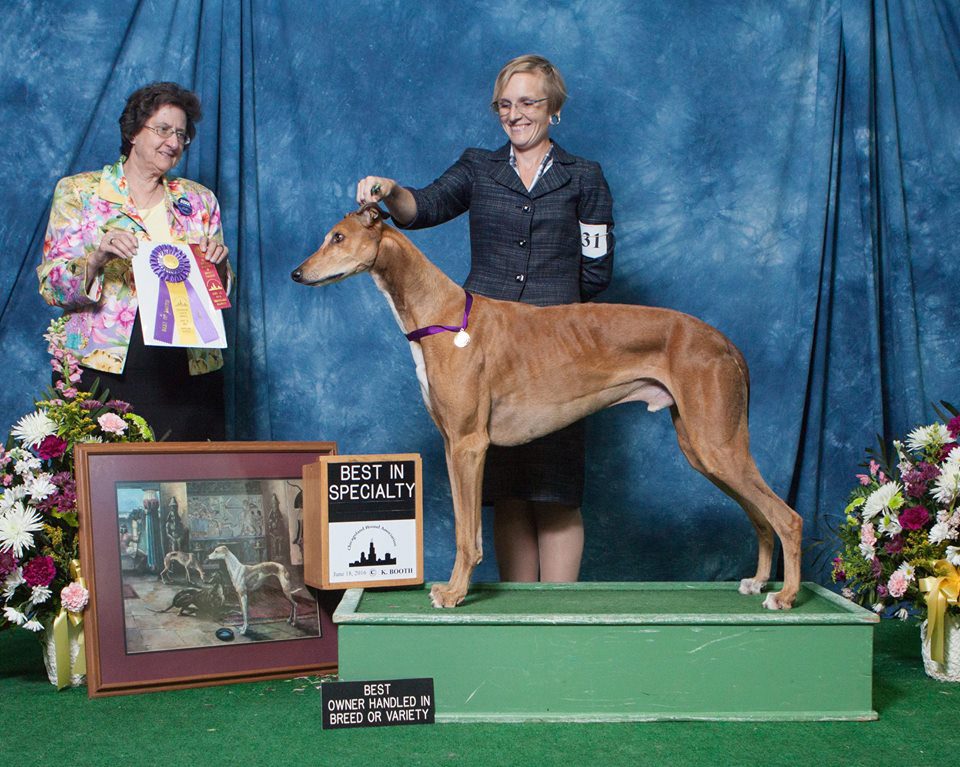 Faith Burnham and Rowan Did It Again!
Expertly guided by owner/handler Faith Burnham, GCH DC Windrock Easy Money SC wins Best in Specialty Show under judge Joan Lester at the Greyhound Club of America's inaugural Central Specialty and goes Owner-Handled Hound Group 2 the same day!
Another one for the record books as Rowan reigns as the ONLY Dual Champion to win a Greyhound Club of America (GCA) Specialty Best In Show, and now he has added another GCA specialty win to his credit.
Rowan is just now entering full maturity and his best age and is a superb Greyhound, and we are proud to be his breeders. The credit for his achievements goes to Faith, as her hard work and dedication have made Rowan a rising star!
WINDROCK-bred Greyhounds are on a roll not just in North America but overseas as well. Our bloodlines can be found in some of the most prominent and successful kennels. This latest bit of happy news comes all the way from Ireland.
We are proud to share the success of this lovely red and white particolored beauty who was bred by Francine Belgherbi of France and sired by our top producing MBIS Int Ch Windrock Fernando!
Congrats to breeder Francine Belgherbi and to owner Felicity Thompson! We are so proud of the Greyhounds worldwide that are rocking WINDROCK bloodlines.
"At the Banbridge All Breed Ch Show, our "Isla" BIS Int Ch/Ned Ch/Ir Ch ISLA AT BARNESMORE AD HONORES (JUN CH) NED WINNER 14, CW 16 - took 1st in Champion Bitch Class, Green Star (CAC) and BEST OF BREED under judge Ms. N Karlsdotter, and then finished Group #4 under judge Mr. Decupyer.
Delighted that all our dogs were again awarded excellence!!! Many thanks to all judges concerned for appreciating our dogs!" - Felicity Thompson