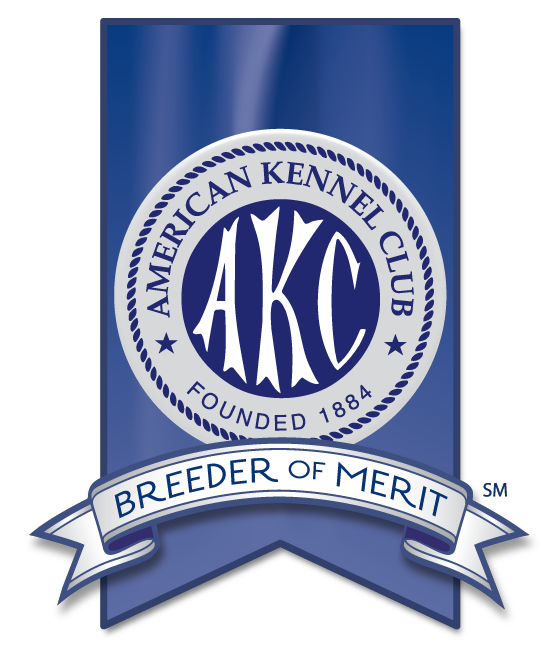 Recognized by the AKC as a
PLATINUM LEVEL BREEDERS OF MERIT
The ONLY Greyhound breeders so recognized by the AKC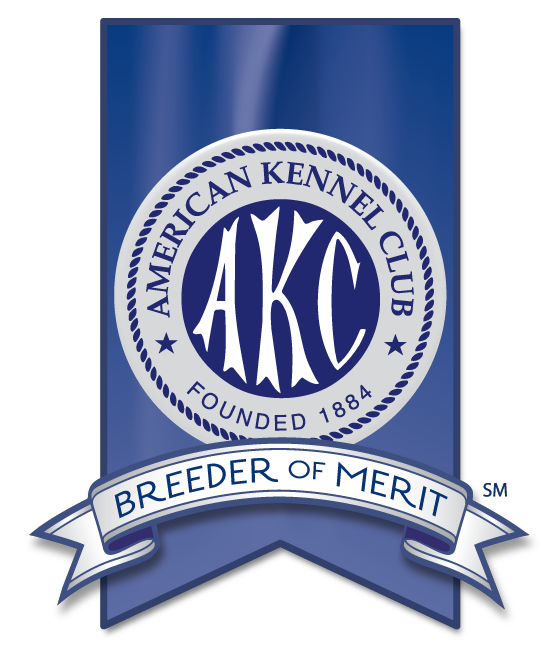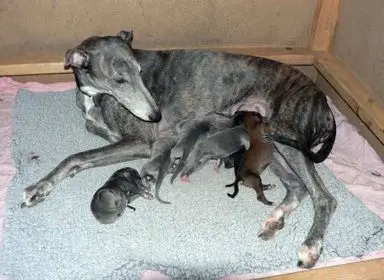 Int Ch Windrock Angeleyes of Skyings is pictured here with puppies sired BIS Ch Sobers Cadiac , both owned by Inger Johansson of kennel Skyings in Sweden.  "Angie" enjoyed a successful show career winning Group and RBIS honors before stepping into the whelping box.
There is a future Best In Show winner in this litter, along with many champions carrying Inger's Skyings prefix.  Spanning long years, WINDROCK LLC greyhounds have been great producers for other renown greyhound kennels here and abroad. There have been many  litters whelped in Europe and Scandinavia sired or produced by WINDROCK LLC greyhounds. Additionally, many noteworthy champions have been sired by our phenomenal sire MBIS Int Ch Windrock Fernando who was exported to Scandinavia two decades ago. We are glad we had the foresight to save frozen semen from him! 
We don't often have greyhound puppies available at WINDROCK LLC and when we do, most of the pups already have families waiting! Early Reservations Are Important--Don't wait until the puppies come--you may be too late!  Contact us at [email protected]  or phone or send a text to   970 270 1300 to learn how to reserve a puppy.
Over the years, WINDROCK LLC has averaged two litters annually. We are planning for more litters  in 2024. Our companion puppies for 2024 are priced at $4175.
Beware unethical breeders!   Kim has been a member of the GCA, the AKC Greyhound Parent Club since 1996 and both Kim and Colin are the only Greyhound breeders recognized by the AKC as PLATINUM Level BREEDERS OF MERIT. 
AVOID being scammed! Stay off of internet puppy sales sites!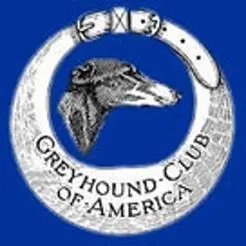 We are looking forward to 2024 Puppies!!!
With any luck at all, soon we will be treated to the happy noise of multitudes of little feet racing and the wonderful smell of puppy breath.
~To cooking huge pans of nourishing meat and vegetables while an appreciative audience moans and whimpers in impatient anticipation of being fed.
~To hours of non-stop amusement observing the babies explore at first the boundaries of their whelping box and the awe and wonder of their first experience leaving the safe confines of that familiar refuge and venturing out into the vast expanse of the study
~
To visitors coming with their children and marveling at the interaction of little humans and little puppies is something that has to be seen to be appreciated.
As we don't often have puppies, these innocent little lives are a
much-welcomed addition to our household.
~The bright times we share with them is only dampened by the profound sadness that naturally comes when the day comes that each puppy leaves to go to its new home.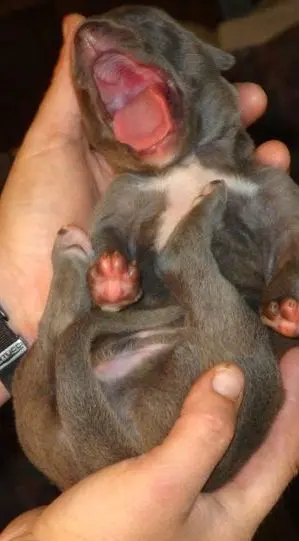 We are planning multiple litters!! Our exciting plans are listed below. Reservations are now being accepted.
Mayhem and Ayden's Litter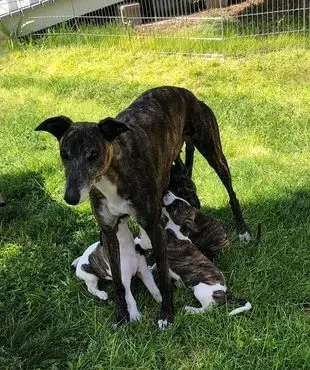 The Dam: MBIF Dual Ch Windrock BlackBerry Wine SC, Fch "Mayhem"
OFA heart/eyes, DNA profiled, Neuropathy clear
Sire: MBIF FC Windrock Hot-Roddicus Supersonicus SC, Fch
Dam: BIF DC Windrock Misty SC Fch
Our little Mayhem may be small, but she is mighty! In the AKC show ring, she showed them all her heels and completed her AKC show championship with three consecutive 5 pt. majors.
She did the same thing on the coursing field, winning three consecutive 5pt majors and a Best in Field to gain her AKC Field Championship title. She demonstrated similar superiority in ASFA trials and quickly gained her ASFA title with another Best in Field win.
Mayhem is a descendent of an illustrious pedigree that boasts a line of four dual champions, and her great, great grandmother is one of our very best, MBIF DC Windrock Mamma Mia SC LCX Fch.
Link to OFA health testing results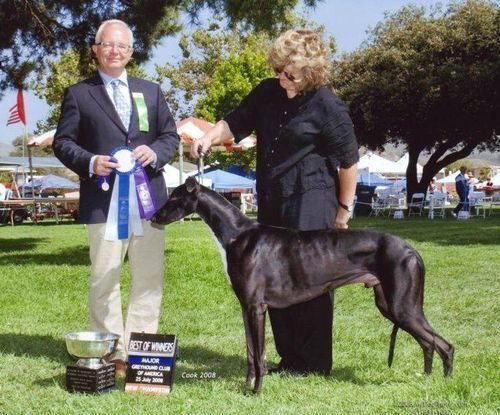 The Sire: Dual Ch Sobers Ippolito SC Fch "Ayden" (import from Italy)
OFA heart/eyes/hips/elbows, DNA profiled, and Neuropathy clear
Sire: Int Ch Fabian del Marchese di Rhieti
Dam: Ch Sobers Duvalia
Ayden was imported from Italy more than two decades ago and had the foresight to have frozen semen stored from him. He was an exceptional individual and won the championship points from 3 consecutive GCA specialties to finish his AKC championship, which I believe is a record achievement.
As a talented athlete, he was a multiple Best in Field winner and earned both his AKC Dual Championship and ASFA Field Championship.
He proved to be an exceptional sire of distinguished champions and charming companions, and his prepotent bloodline is found in our pedigrees today.
Billie and Fernando's Litter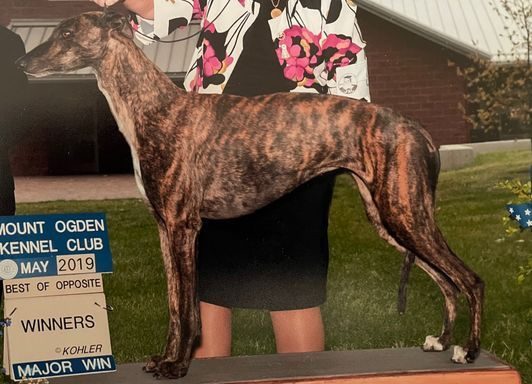 The Dam: Ch Windrock Mountain Music SC Fch "Billie"
The Mother to be is our lovely "Billie" who is multiple group placing Ch Windrock Mountain Music SC  
 She is an own daughter of one of our very best, the wonder dog,  Group placing MBIF GCH DC Windrock Calamity Jane SC Fch!
These puppies will be the first blending of these elite bloodlines .  In addition to her accolades in the ring and on the field, Billie is our go-to dog for helping us in school demonstrations and visiting the elderly. She is one of the sweetest and most gentle souls and she has an innate ability to comfort ailing individuals.  
This will be her second and last litter and as she needs just a few points to finish her Dual Championship (COVID played havoc on our plans and on dog events), and we hope to pursue that endeavor soon.  Billie has been health tested and DNA verified. 
 Click here for for OFA testing results
The  proposed sire to Billie's litter is MBIS/MSBIS INt Ch Windrock Fernando who has proven to be an exceptional sire. He is a grandson of the Greyhound breed's all-time top Champion sire, MBIS/MSBIS Ch Shazam's The Journey Begins JC CGC, "Fernando" has produced top ranked get in the show ring and on the coursing field.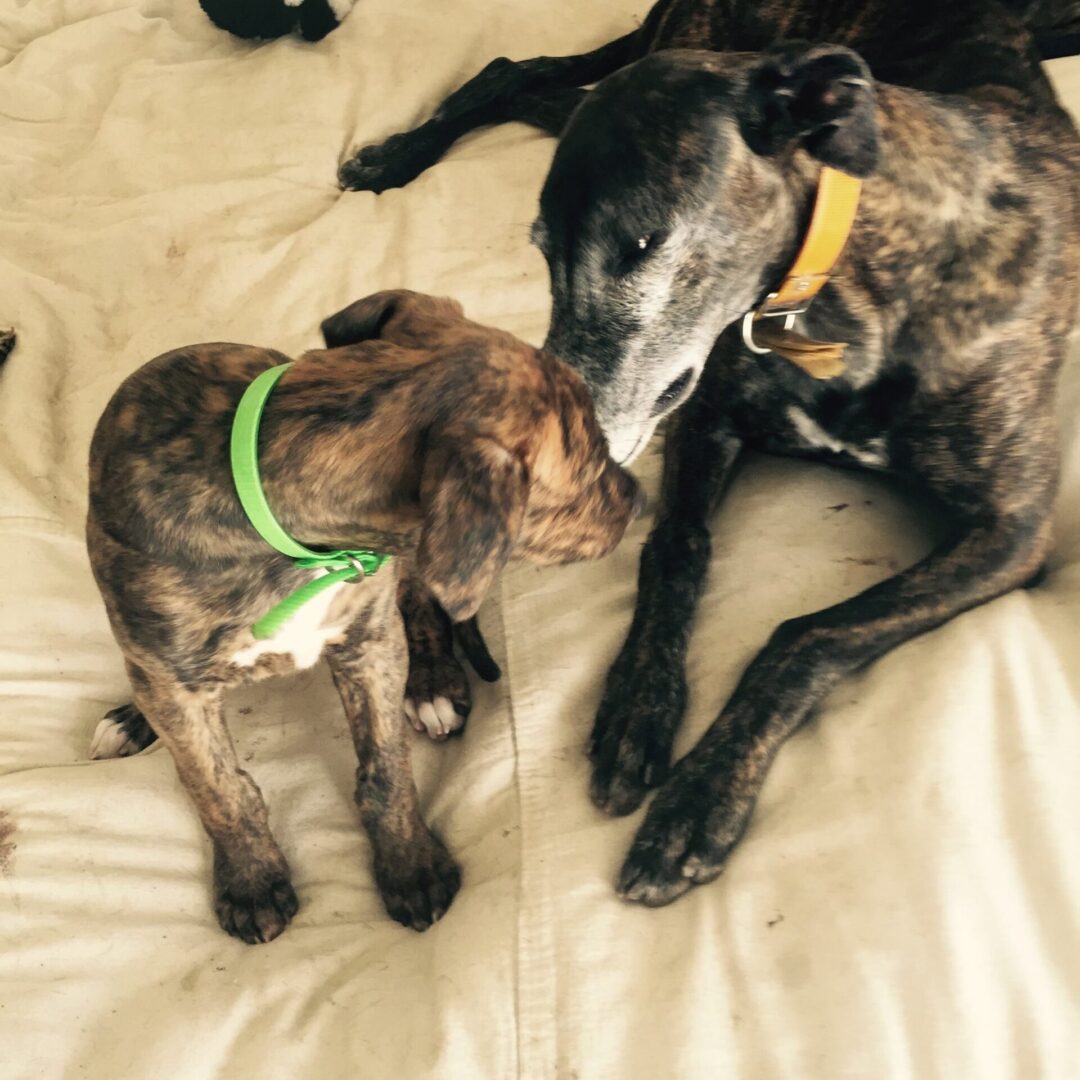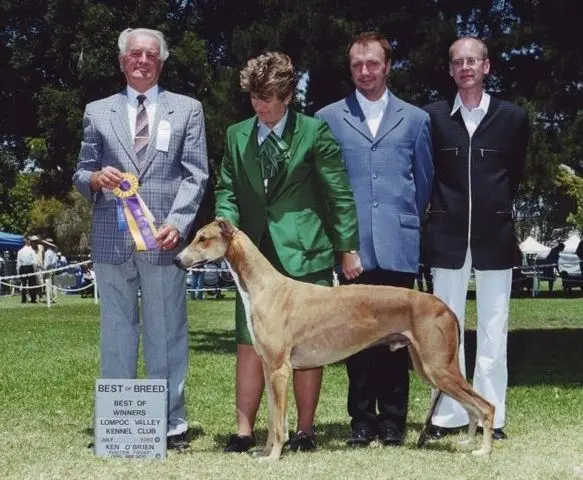 BIS Int Am Fin Est S CH FinW-02-04 NordW-03 BaltW-06 Windrock Fernando
MBIS/SBIS/HIT Ch Greystone's Barcelona CGC  x  Ch Sobers Aquatica
 CERF/Hips "A" rated in Finland, Neuropathy Free
Fernando
 is one of the pups from the sensational "ABBA" litter bred by WINDROCK. He is a littermate to our #1 ranked MBIF DC Windrock Mamma Mia LCX Fch, " Naughty",  SBOS DC Windrock I've Got A Secret SC, "Whisper", RBIS Int Ch Windrock Angeleyes of Skyings, SBIS Ch Windrock Does Your Mother Know, DC Windrock Dancing Queen SC Fch, "Karmen"and Multiple Group placing Ch Windrock Cassandra SC, "Cassie".
This brilliant red son of our #1 ranked Ch Greystone's Barcelona and out of the lovely Ch Sobers Storia daughter-Ch Sober Aquatica SC; finished his AKC Championship very easily earning multiple group placements from the classes, hie was RWD at the GCA National, and was BOB over numerous top ranked specials the following day. He went on to a huge Group 2 win at Lompoc KC the same day and finished his Championship.  Doing so, he defeated some of the very best Hounds in the country.
He was exported to Finland soon after finishing his AKC Championship and has enjoyed a successful show and stud career in Scandinavia.  We had the foresight to store semen before his departure as we thought he would prove to be a successful sire.  It wasn't long before our predictions proved prophetic as he is one of the top three all-time top champion producing greyhound sires! As Fernando has been gone many years (he was born in 2000), puppies from this well proven producer are now possible through the miracle of frozen semen breedings.
Fernando's offspring have fabulous temperaments and sweet character and have proven to be exceptionally healthy and long lived.  Our current BIS winner "Firefly" (BIS Can GCH/Am SBIS GCH/Int Ch Windrock She's Tough Enough) is a Fernando daughter!
Fernando is a son of our #1 ranked Ch Greystone's Barcelona and out of the lovely Ch Sobers Storia daughter-Ch Sober Aquatica SC. He was exported to Finland soon after finishing his AKC Championship and has enjoyed a successful show and stud career in Scandinavia. Some of his accomplishments include:
Firefly and Homer's Litter
These puppies were born on July 1, 2023. We have 6 girls and 5 boys, which are mostly solid red with white accents, with the exception of one particolored boy and a particolored girl.
BIS Can GCH/SBIS Am GCH/Int Ch Windrock She's Tough Enough
OFA eyes/heart/DNA profiled and Neuropathy clear
Firefly had a brilliant show career not only in the US but also in Canada, where she was the #1 Greyhound before being called home for mating. In spite of not being shown for months, she still ended up being #2 to another WINDROCK Greyhound.
She is a Best In Show winner and a Specialty Best in Show winner, with a loving personality that has made her the best in our hearts.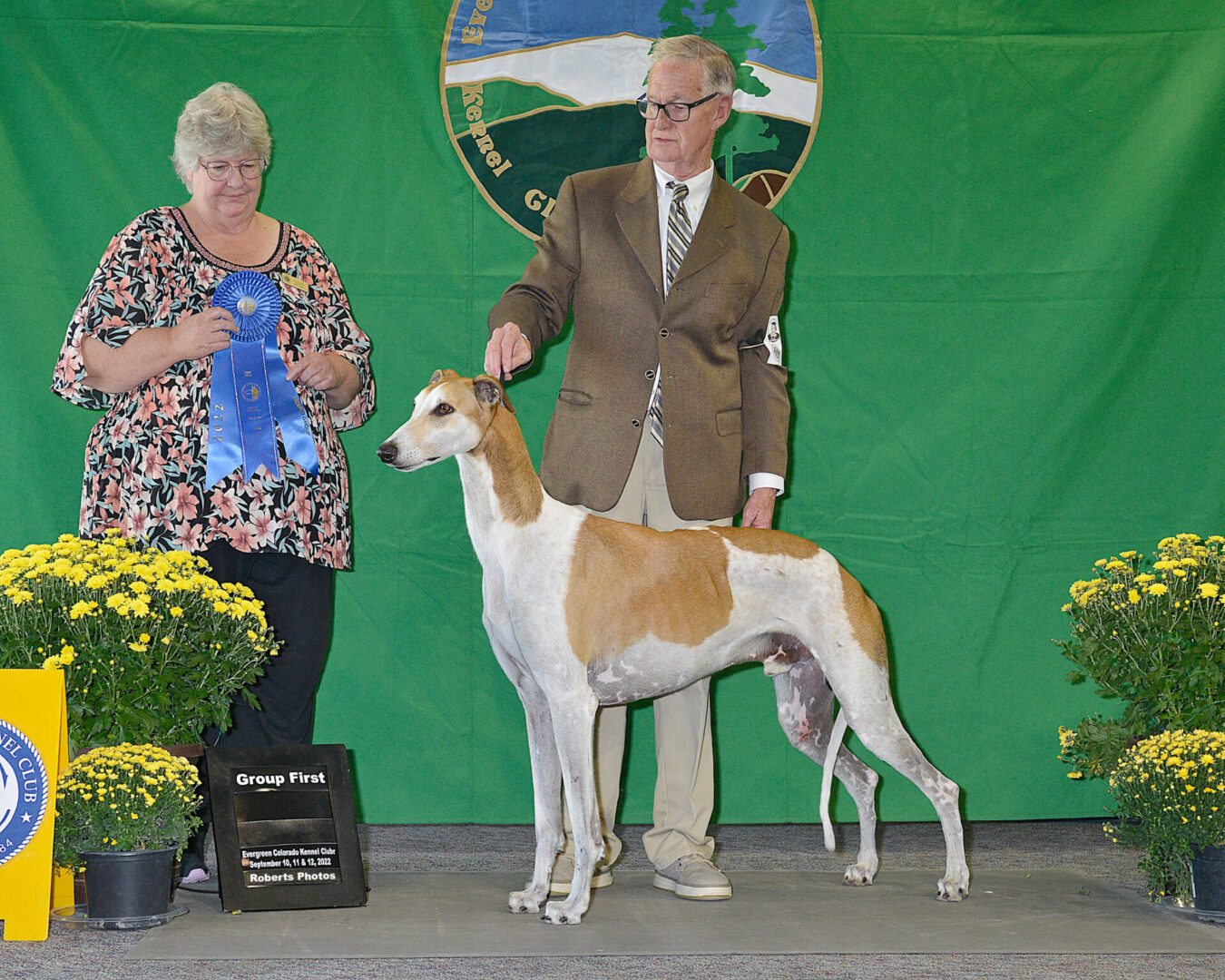 MBIS/MSBIS Ch Shazam's The Journey Begins JC x GCH Shylo The Party Spot
OFA cardiac/eyes and Neuropathy clear
"Homer" was bred and is co-owned by the famous kennels of Shylo and Greycott. He is a multiple-group winner and has a GCA Specialty BOS win. He was the #1 male show Greyhound in 2022 and is currently the top-ranked male Greyhound in the US!
Homer has a sweet loving personality, and we feel this mating will result in some lovely puppies.
Jasmine and Fernando's Litter
This litter of two boys was born on April 1, 2023. The pedigree of the litter is one of a kind and is strongly outcrossed.
Ch Aryal Aroi Artist Proof SC
MBIF DC Sobers Ippolito SC Fch x Aroi Double Delight
OFA cardiac, eyes/DNA profiled/ Neuropathy clear
Jasmine is an excellent example of the Greyhounds that the Aryal Aroi combination was known to produce. She handily finished her AKC championship with noteworthy wins. She is close to her ASFA Fch and will hopefully resume that endeavor after her puppies come.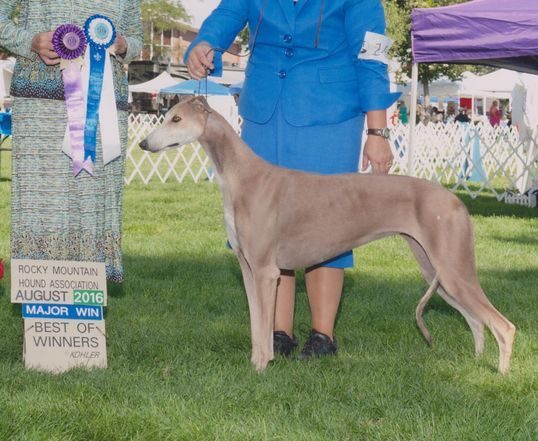 Available Windrock Greyhounds
Continue browsing for more information about our available Greyhound puppies and our adoption process.